1. Animals

2019 / 2020
Front and Back Covers
From ISTD Climate; Typo-Action

"How can you respect something that you are not connected to?" — David Attenborough.



2019 / 2020
Spreads from Polar Bear (Issue 2 of 12)
From ISTD Climate; Typo-Action

Climate change is global in its impact yet it is often hard to see the results, especially when human-kind remains so dis-connected from the natural world.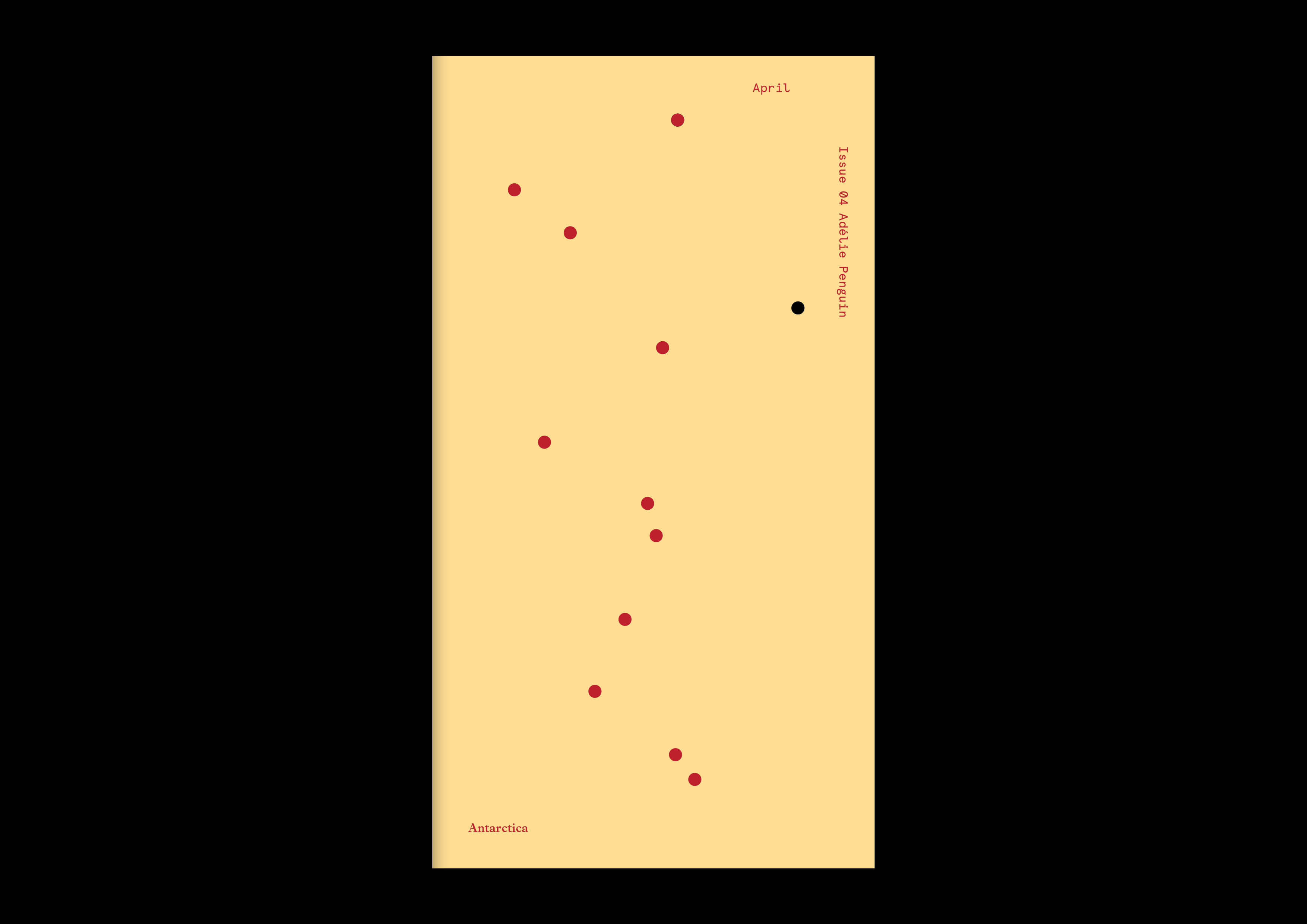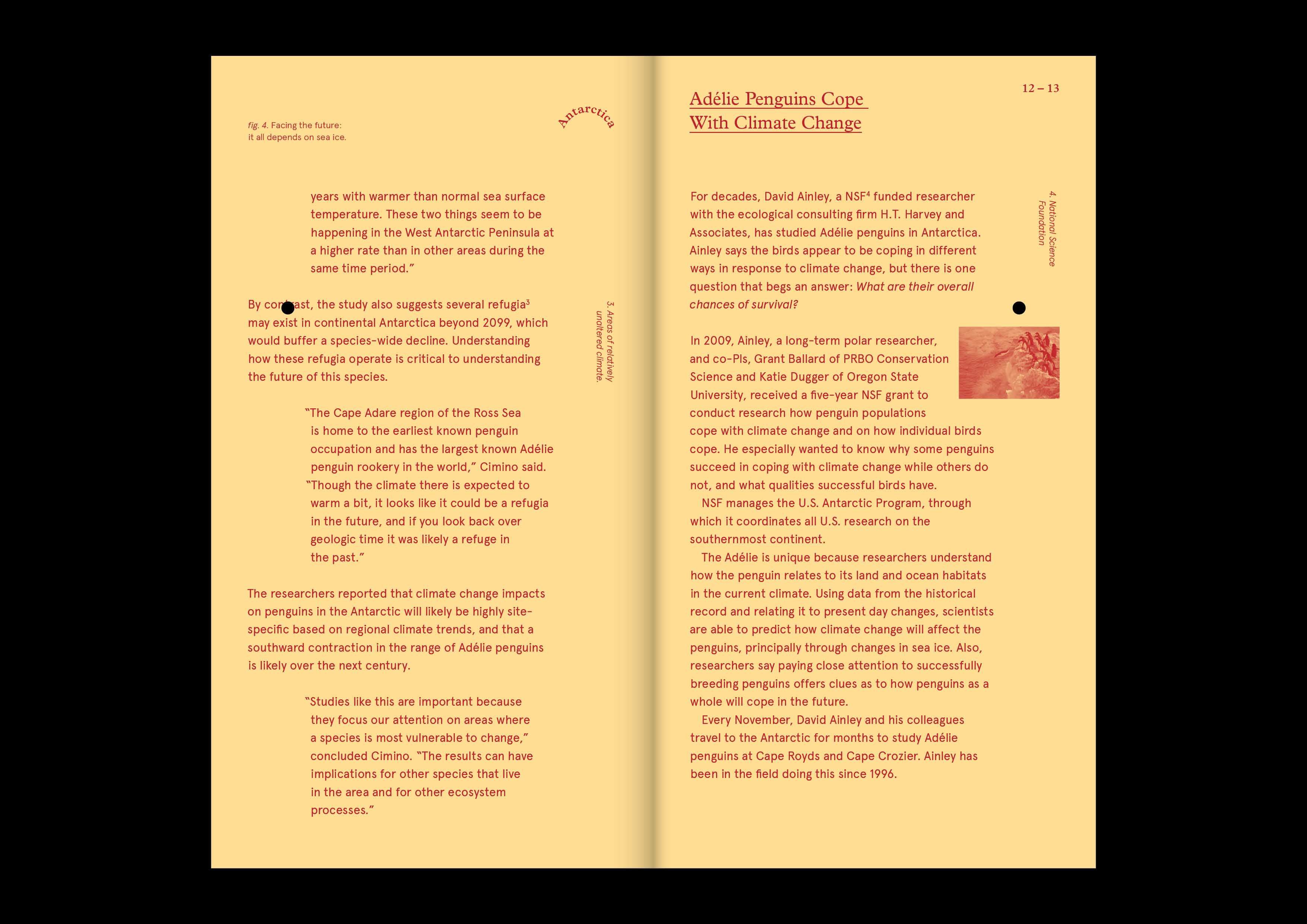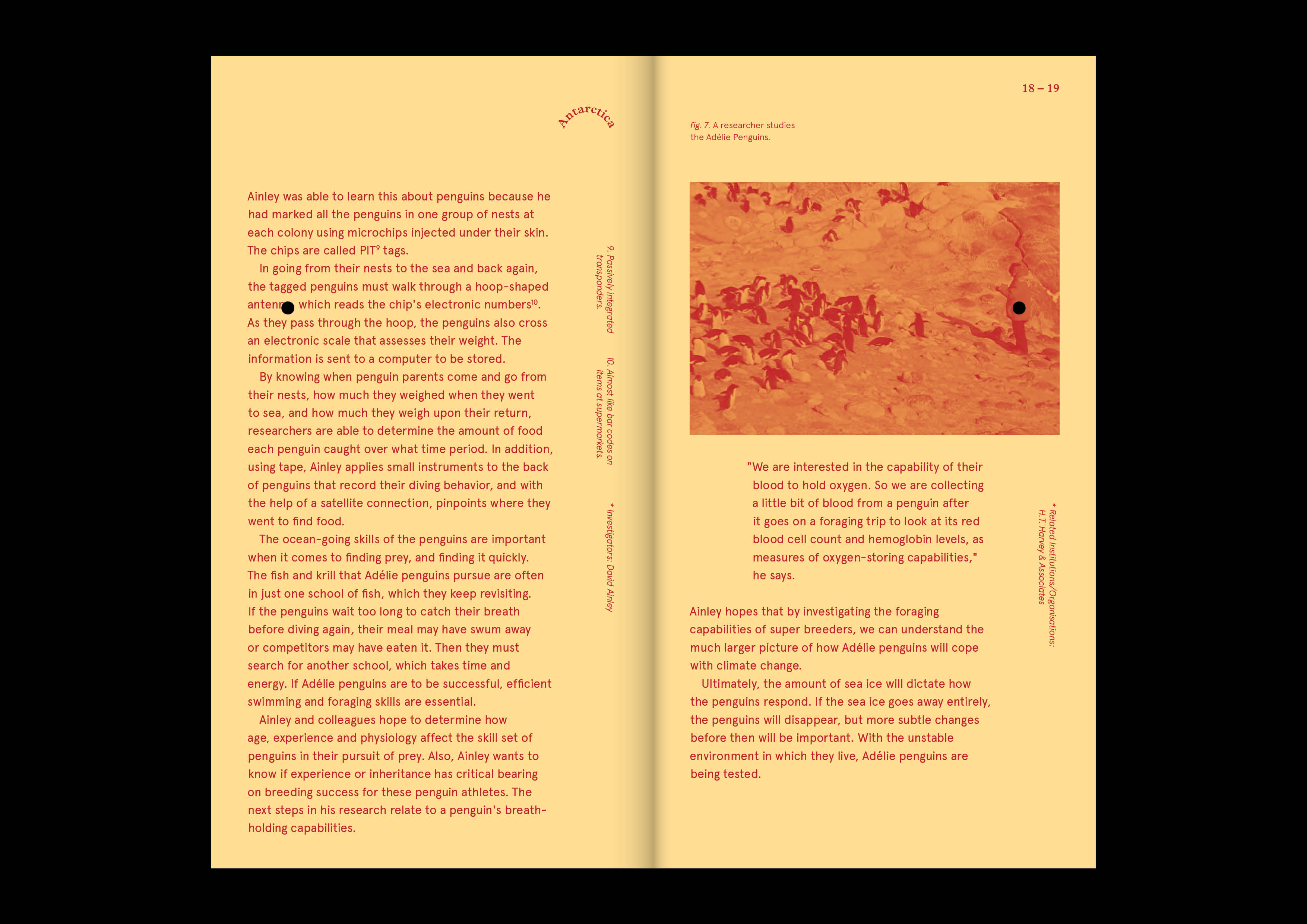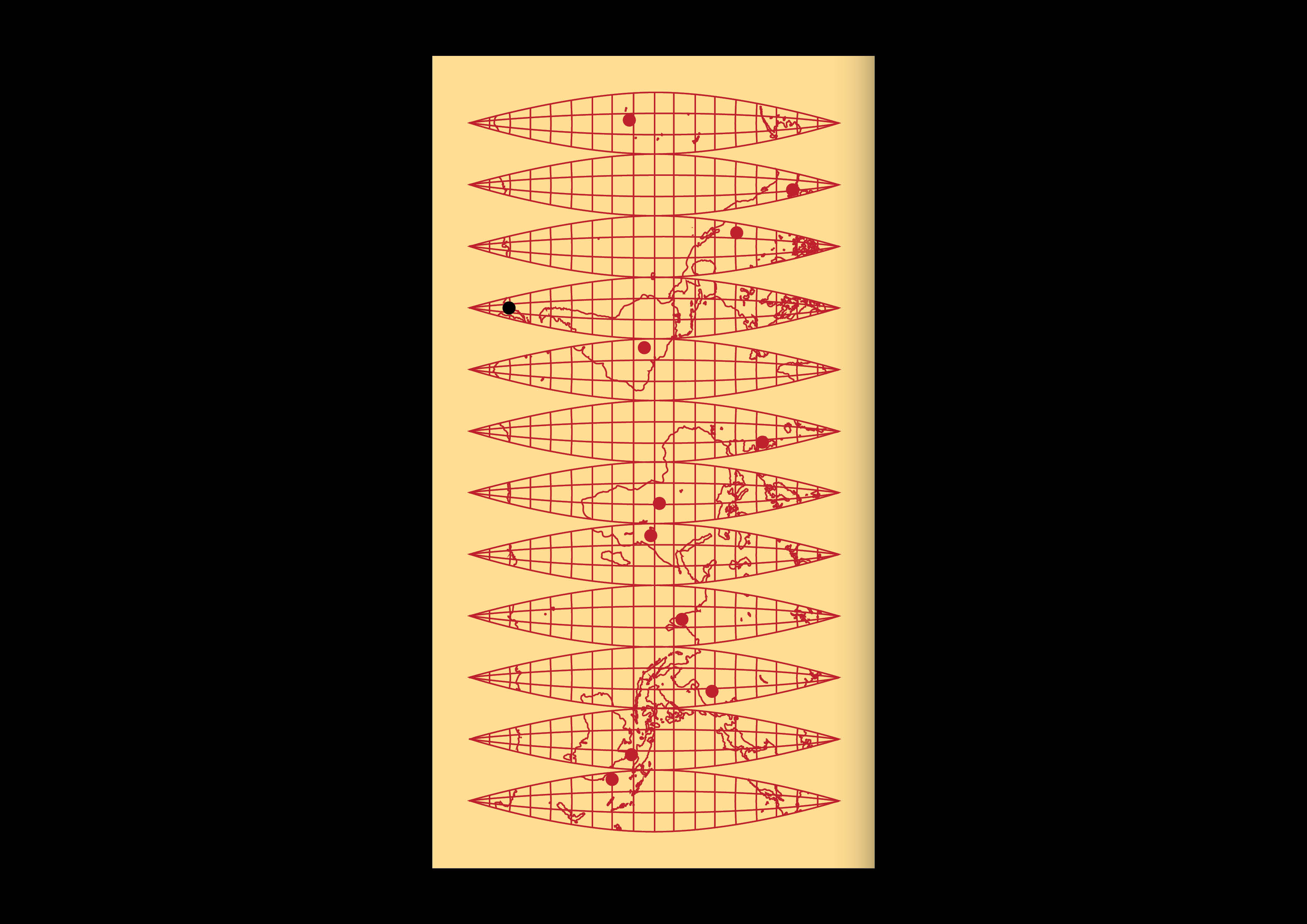 2019 / 2020
Adélie Penguin (Issue 4 of 12)
From ISTD Climate; Typo-Action

This project uses a globe's mapping system which divides the world into 12 equal sections. Each section has an identified mark. The spot marks an animal endangered as a result of climate change. There are 12 booklets in this series and they are intended for monthly release. A year's subscription.

The purpose of this content is to start re-connecting humankind with the natural world. To show what the consequences of our actions are and to show what can be done to help, and incite change.



2019 / 2020
Sea Turtle (Issue 1 of 12)
From ISTD Climate; Typo-Action

Each issue is about a different area of the world and therefore a different animal. The dot that locates the animal in conversation is physically punched out of the given publication.


Mild*
Medium*
Extreme*


*Levels of endangerment as a result of climate change.

Each booklet is printed on a shade of red paper. The given shade of red shows how under pressure the animal is. The darker the paper, the more pressure the animal faces. The colour of the ink is closely matched to the shade of the darkest red paper. The more endangered the animal is, the harder it is to see. The climate vulnerability scheme, developed by WWF to assess an animal's vulnerability, was used as a base-guide to assess animals' status for this project.



2019 / 2020
Asian Elephant (Issue 9 of 12)
From ISTD Climate; Typo-Action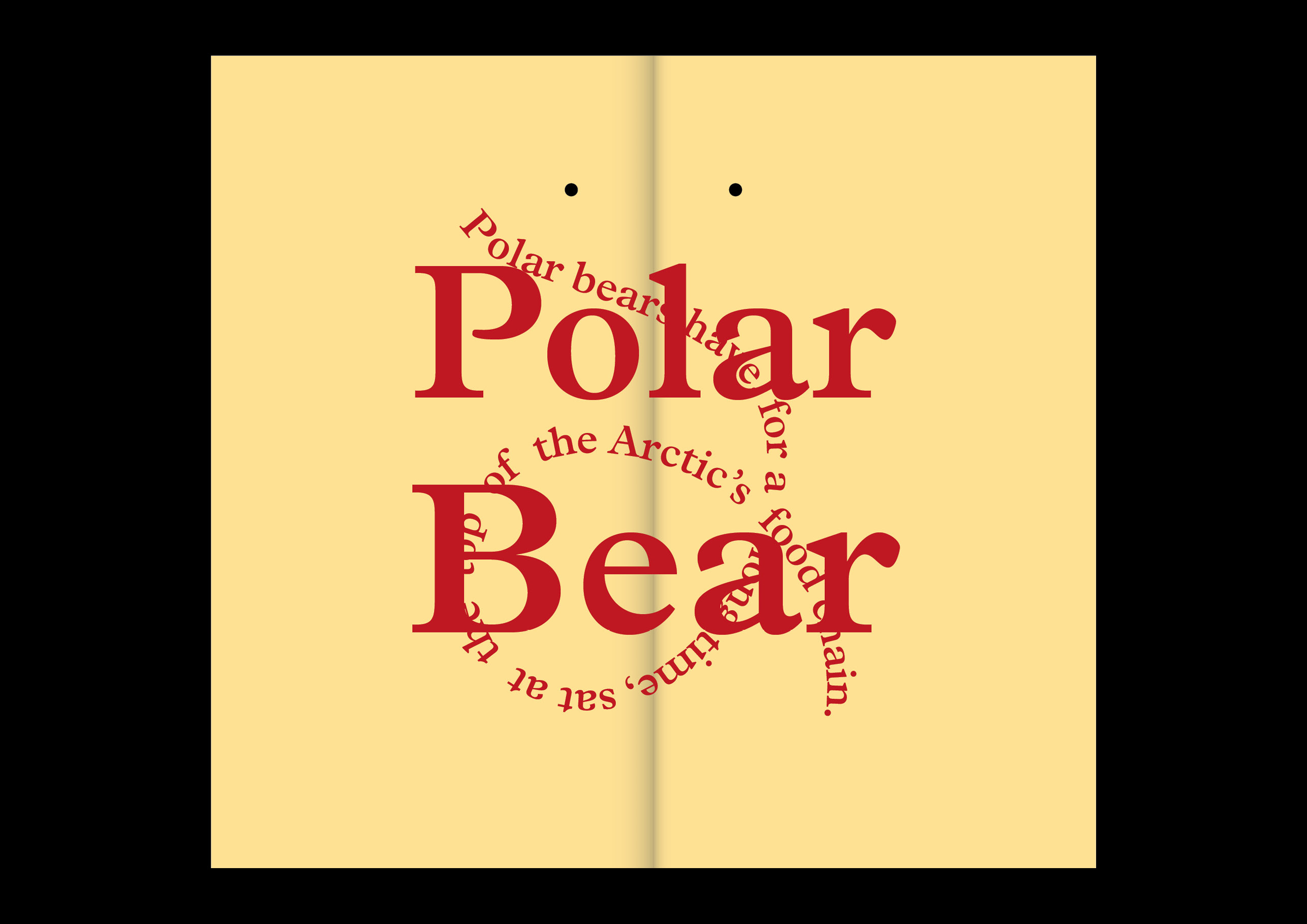 2019 / 2020
Polar Bear (Issue 2 of 12)
From ISTD Climate; Typo-Action




2019 / 2020
Mounain Gorilla (Issue 7 of 12)
From ISTD Climate; Typo-Action




2019 / 2020
Giant Panda (Issue 10 of 12)
From ISTD Climate; Typo-Action




2019 / 2020
Bramble Cay Melomys (Issue 11 of 12)
From ISTD Climate; Typo-Action